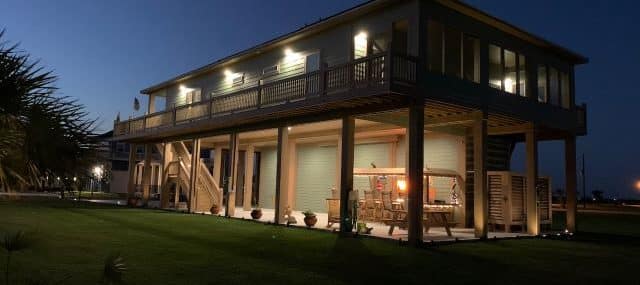 $787,500
The beautiful one year old home is located in a gated community in Crystal Beach known as Waterways. There are restrictions.
This 3/2/4 with oversized lot is perfect for anyone. The screened in patio (bug protection screen underneath the back porch and around the porch)
was a little more but worth the expense. You can sit outside and see the beach from a far distance, watch the firework shows, sit out
during a rain shower and never be bitten. The oversized 4 car bay garage has a 10×10 door and is very deep. Tiki Bar custom and seats
many people. There is an outside shower and so much room for entertaining inside and out. There is enough room on the side yard for
playing all sports or building your own pool. A large covered front porch and sun deck. At an extra expense the sellers painted all pilings
and exterior doors. Home wired for generator.